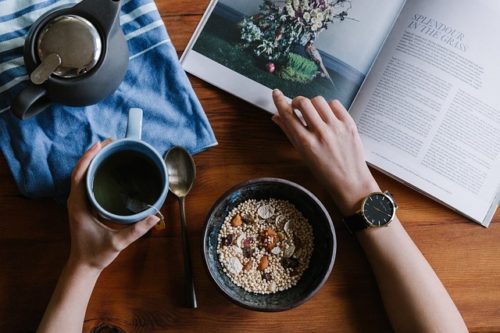 This breakfast is packed with powerful nutrients!  First, oatmeal is a very good source if dietary fiber.  Second, nuts are rich sources of  of heart-healthy fats, fiber, plant protein, vitamins and minerals. Lastly, dates are a tasty Mediterranean fruit that are high in dietary fiber, antioxidants, potassium and magnesium.  Enjoy!
Ingredients:
1 cup steel cut oats
1 tsp vanilla extract
2T brown sugar
1/4 cup chopped nuts (walnuts or pecans are delicious in this but feel free to choose your favorite!)
1/4 cup pitted, chopped dates
1 cup 1% milk
Directions:
Bring 3.5 cups of water & a pinch of salt to a boil in a pot. Stir in the oats. Turn the heat to the off setting & cover the pan. Allow the pan to sit on the stove overnight.
The next morning, heat the oatmeal on low. Scoop into bowls & top with brown sugar, chopped dates and your choice of nuts.  Add milk and serve
Makes four servings.
Nutrition Information (per serving): 
Calories: 270
Fat: 8 gm
Sodium: 32 mg
Potassium: 203 mg
Carbohydrate: 48 gm
Protein: 9 gm