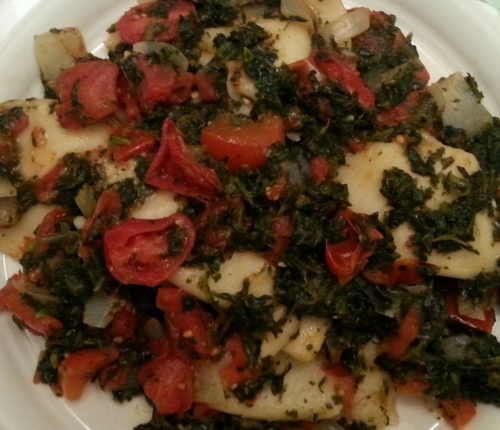 Here is a quick & easy pierogie recipe made with spinach & tomatoes.  Perfect for a Meatless Monday (or any day!). Pierogis (pronounced Pi-roh-ghees) are filled dumplings that originated in Eastern Europe. They are made with unleavened dough and can be filled with potato, sauerkraut, ground meat, cheese and/or fruits.  Also, they are often served with a topping, such as melted butter, sour cream or sauteed onions.
You can make your own pierogies or buy them in the freezer section of almost any grocery store (usually near the frozen potatoes).  We like Mrs. T's brand: http://www.mrstspierogies.com (in a blue box).  They are inexpensive and make very quick and easy meals.  There are tons of ways to cook them!  Here is one of our favorite ways to cook pierogies:
Ingredients:
1-12 packs box of Mrs. T's Classic Cheddar pierogies
1/2 of a 1# bag of frozen chopped spinach or 2- 10 oz. boxes frozen spinach (about 3 cups)
2 T olive oil
1 red pepper, chopped
1 small onion, chopped
2 gloves garlic, minced
1-14 oz can no salt added diced tomatoes (do not drain)
Parmesan Cheese
Directions:
Place the spinach in a microwavable bowl and heat approximately 4-5 minutes until it no longer feels frozen.  Sauté onion & red pepper garlic in olive oil in a large skillet (cast iron works well) until the onion is transparent.  Add the garlic & saute for approximately minutes.  Add the canned tomatoes with their water (do not drain) & the spinach. Cover the mixture and turn down the heat to low/simmer.  Place the pierogies in a large bowl containing hot tap water.  Allow to sit in the water for about 3 minutes. Pour off the water and re-add hot water (to warm them up) & allow to warm until they no longer feel frozen inside. Pour off the water and add the pierogies to your tomato/spinach saucepan mixture.  Allow to simmer on a low temp for 5-10 minutes and then serve topped with parmesan cheese.  This will make 4 servings (3 pierogies each).
Nutrition Facts:
Amount Per Serving (4 Servings)
Calories:  

315

Total Fat:  

9.2 g

Saturated Fat:  

1.2 g

Polyunsaturated Fat:  

0.6 g

Monounsaturated Fat:  

5.1 g

Cholesterol: 

6.0 mg

Potassium   

109 mg

Sodium:  685 mg
Total Carbohydrate:  

52 g

Dietary Fiber:  

7 g

Protein: 10 g
High in both Vitamin A  & Vitamin C!
It's Your Health.  It's Your Life.  Make That Change!