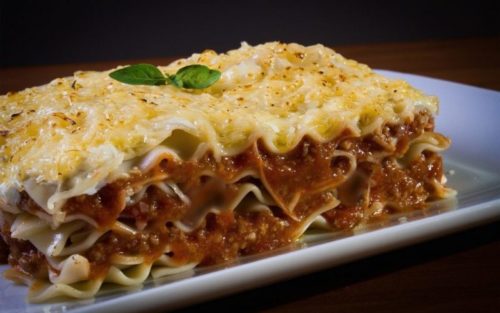 This is a quick and easy meatless spinach lasagna recipe which can be thrown together easily and then tossed into the oven to cook while you relax or take care of other things! We often double this when we make it & place the uncooked dish in the freezer for a future super-busy night when there is zero time for meal prep. Enjoy.
Ingredients:

4 c. bottled low sodium pasta sauce

8 oz. shredded part-skim mozzarella cheese

2 c. low-fat ricotta cheese

12 oz. uncooked lasagna noodles

1 c. low-fat cottage cheese

¼ c. parmesan cheese

2 T dried parsley

1-10 oz. pkg. frozen spinach, thawed and drained

1 t chopped garlic

 

 
Instructions:

Preheat oven to 350 degrees.  Spray a 9 X 13 inch pan with nonstick cooking spray.  Mix ricotta, cottage cheese, parsley, spinach and garlic.  Pour 1 cup sauce in bottom of pan.  Arrange 1/3 of the noodles in the pan so that they touch but do not overlap.  Spread ½ of the cheese mixture over the noodles.  Top with ½ of the mozzarella cheese.  Top this with 1 cup sauce, 1/3 of the noodles, remainder of the cheese mixture and the rest of the mozzarella cheese.  Add another cup of sauce, another layer of noodles and the remainder of the sauce.  Sprinkle with parmesan cheese.  Bake, covered tightly with aluminum foil, for 1 hour. Garnish with additional parsley if desired. 

 

 
 
Prep Time:  15 min
Cook Time:  1 hour
Yield:  8 servings    
Nutrition Facts: Amount Per Serving (8 servings)
Calories=405
Total Fat=12 gm
Sodium=488 mg
Potassium=188 mg
Total Carbohydrate=46 gm

Dietary Fiber=

2 gm

Sugars=

9 gm

Protein=27 gm
It's Your Health. It's Your Life. Make That Change!