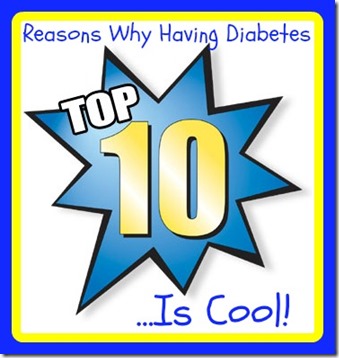 Diabetes is Cool!  Yep, that's what I said!  Sometimes changing your perspective helps you to see things in a different light! We all know that Diabetes can cause many problems.  But if you have Diabetes, you might have found some humor in the daily tasks you perform to keep things under control.  So, here are my "Top Ten" reasons:
10: I have become good friends with my neighborhood Pharmacists!
9: I can utilize my stealth like, ninja reflexes to check my blood sugars and inject my insulin without anyone even knowing it!
8: I can carry food into sporting events as it is necessary for my Diabetes treatment!
7: If I am having a low blood sugar, I can eat sweets without the guilt!
6: I know Carbs, inside and out!
5: It's a great way to get out of an uncomfortable situation, "Excuse me, I think I need to go and check my blood sugar…"
4: Provides you with an excuse to not eat your Aunt Vera's Holiday Fruit Cake!
3: Exercise becomes a necessary and enjoyable treatment to help reduce medications and save money!
2: Allows me to drop my pants at any time if I have to inject insulin!
1: I can keep a watchful eye on the neighborhood when I'm up in the middle of the night checking my blood sugar!
I know if you've been dealing with Diabetes, you have some of your own Top Ten moments to add.  Feel free to share them! 
And always remember, We control Diabetes!  It does not control us!
"It's Your Health. It's Your Life. Make That Change!"
~John