We like this homemade granola as a topping for yogurt or by itself with milk for a quick breakfast or mid-day snack! Change up the nuts & dried fruit—it's different & delicious every time!  Whole grains, such as oats, are high in fiber & can help to reduce cancer risk. Nuts are high in unsaturated fat and can reduce the risk of cancer and heart disease.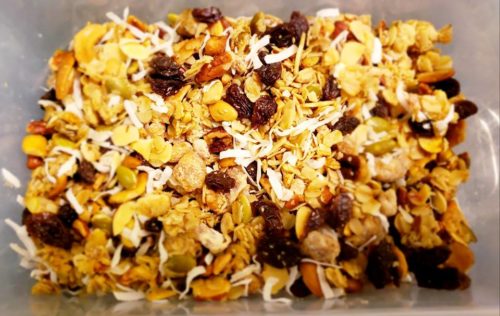 Ingredients:
Old Fashioned Oats-6 cups
Unsalted Nuts of choice (at least 3 varieties-almonds, cashews, pecans, walnuts, etc.- your choice!)-3 cups total
Seeds of Choice (pumpkin, sunflower, etc) – optional-1/4 cup total
Salt-dash
Blackstrap Molasses-2 T
Canola Oil-4 T
Honey- 4 T
Coconut flakes, unsweetened or grated coconut – ¼ cup
Dried fruit of choice (raisins, Craisins, dates, etc) – ½ cup
Parchment paper
Directions:
Mix oats, nuts and seeds in a bowl. Add salt and canola oil and stir. Add blackstrap molasses and stir.  Bake on a baking sheet lined with parchment paper at 350 degrees for 10 minutes. Remove from oven and flip mixture around with a spatula. Bake another 7-8 minutes, remove from oven & flip mixture around again w/spatula.  Repeat until the mixture looks golden brown & crunchy (2-3 times is usually adequate).  Watch mixture carefully so that it does not burn! Remove from oven & drizzle honey over entire mixture. When mixture is completely cool, sprinkle with coconut and dried fruit of choice. Store in airtight container in the refrigerator. Makes 24 servings.
Nutrition Facts Per Serving:
| | | |
| --- | --- | --- |
| Calories                         230 | Protein                        5 gm | Carbohydrate            23 gm |
| Fat                              14 gm | Sodium                       8 mg | Fiber                          4 gm |
| Saturated Fat                1 gm | | |
Nutrition Pair ™
 It's Your Health.  It's Your Life.  Make that change! ™