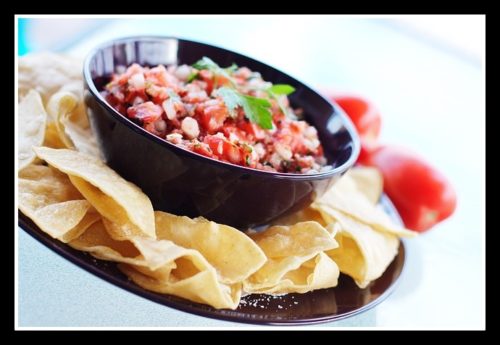 This is a reduced sodium version of Cowboy Caviar (bean salsa).  It is a delicious, colorful, fresh & healthy appetizer that is perfect for Saturday tailgating or Sunday football viewing parties.
Ingredients:
1 (15 oz) can Black Beans (Drained & Rinsed)
1 (15 oz) can Garbanzo Beans (Drained & Rinsed)
1 (15 oz) can White Corn, No Salt Added
2 Cans Rotel Diced Tomatoes & Green Chilies, No Salt Added Mild (Do Not Drain)
1/2 cup Italian Dressing
1/4 cup vinegar (we prefer Apple Cider flavor)
1 cup diced Cilantro
Directions: Mix all items together in an airtight bowel. Refrigerate (preferable overnight).
Nutrition Facts:
Amount Per Serving (12 servings)
Calories:  

160

Total Fat:  

5.7 g

Saturated Fat: 

0.8 g

Polyunsaturated Fat:  

3.0 g

Monounsaturated Fat:  

1.2 g

Cholesterol:  

0 mg

Sodium:  200

 mg

Potassium:  

238 mg

Total Carbohydrate:  

22 g

Dietary Fiber:  6

 g

Protein:  6

 g
It's Your Health.  It's Your Life.  Make That Change!