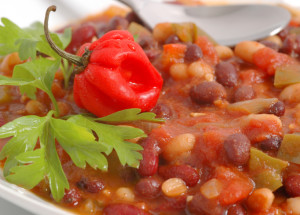 This Vegetarian Beer Chili is a perfect Meatless Monday recipe because it's so easy & cooks in only 20 minutes.  Add a beer for best flavor. Enjoy!
Ingredients:
1 chopped onion
1 red pepper
1 cup chopped celery
1 cup chopped green pepper
1 cup shredded carrots
1-16 oz. bag frozen corn
2 cans beans, drained & rinsed (one can black, one can red)
12 oz fresh or jarred salsa- mild, medium, spicy- your choice!
1 can diced tomatoes (no salt added)
1-12oz. can or bottle of light beer (non-alcoholic works as well!)
1 cup wheat germ
Instructions:
Combine all ingredients & cook on stove top on simmer for 20 minutes or in crock pot for at least 2 hours on high. (Top with reduced fat cheese and/or reduced fat sour cream if desired). Further reduce the sodium in the recipe by rinsing the beans or choosing reduced sodium canned beans or cooked dried beans.