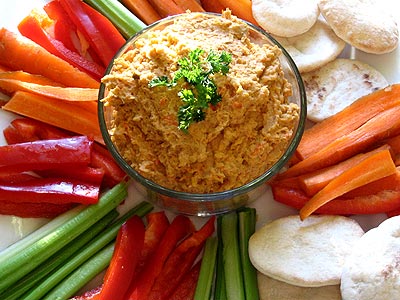 Sharing our favorite hummus recipe!  This is great with raw vegetables or pita chips.
Ingredients:
½ Cup Roasted Red Pepper Strips, jarred
1  15-ounce can of Chickpeas, drained and rinsed
½ Cup Tahini
2  Garlic Cloves, Minced
Juice of 1 Lemon
2 Tablespoons Extra Virgin Olive Oil
1 Teaspoon Kosher Salt
6 Large Basil Leaves, chopped
Instructions:
In a blender or Food Processor, mix all ingredients with ½ Cup of water and blend until smooth.  Sprinkle with Hot and Spicy Mrs. Dash and a splash of hot sauce for added flavor!
Refrigerate at least 4 hours for best flavor
NUTRITION FACTS:
Serving Size:               ¼ Cup
Calories:                     140
Total Fat:                     10 g
Saturated Fat:                 1 g
Trans Fats:                       0 g
Cholesterol:                 0 mg
Sodium:                      240mg
Carbohydrates:            11 g
Dietary Fiber:                    3 g
Sugars:                              <1 g
Protein:                           4 g
It's Your Health. It's Your Life. Make That Change!