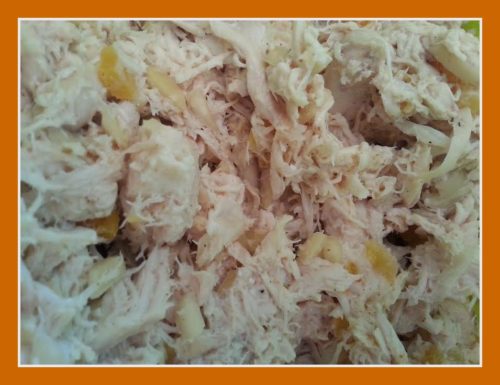 Spice things up at lunch with this Moroccan chicken salad recipe!  Moroccan food is a mixture of Mediterranean, Arabic and North African cuisine.  A wide range of both Mediterranean and tropical fruits and vegetables grow in Morocco.  Moroccan food consists of a wide range of spices and fruit is most often served as dessert.
Ingredients:
2 lbs boneless, skinless chicken breasts (4 cups shredded cooked chicken)
1 cup slice almonds (5 oz)
1 cup chopped dried apricots (7 oz)
1/2 cup light mayonnaise
2 T lemon juice
1/8 t cayenne pepper
1/4 t cinnamon
1/2 t coriander
1/4 t cloves
1/8 t nutmeg
Dash salt
1/2 t black pepper
Directions:  Cook chicken.  For this recipe, I purchased 2 pounds of chicken breast tenders and baked them at 350 degrees for approximately 20 minutes (turn the tenders halfway through during cooking).
Mix chicken and all remaining ingredients in a large bowl.  Refrigerate at least 1 hour prior to serving. Enjoy!
Nutrition Facts:
Amount per Serving (9 Servings)
Calories:  250
Total Fat:  12.6 g
Saturated Fat:  1.1 g
Polyunsaturated Fat: 4.1 g
Monounsaturated Fat6.0 g
Cholesterol:  46 mg
Sodium:  143 mg
Potassium:  453 mg
Total Carbohydrate:  15 g
Dietary Fiber:  3 g
Protein:  21 g
High in Vitamin B-6, Vitamin E & Niacin
It's Your Health.  It's Your Life.  Make That Change!