We all want our children to be the best they can be. We want our children to be healthy, happy and safe. One way to make sure your child is prepared is with nutrition.  It starts an early age, a very early age!  August is National Breastfeeding Month and Kids Eat Right Month.  Both programs are geared towards helping to educate parents about the importance of nutrition throughout life.  I like that we celebrate both events together.  There is no question that breastfeeding your newborn for as long as possible will help to set a solid foundation for health.  Continuing healthy habits as your child ages will help to reduce their risk of chronic disease and illnesses.
The good news is that breastfeeding rates have increased according to the Centers for Disease Control. Recent data indicates that over 80% of newborns have been exposed to breastfeeding. Unfortunately though, the rates of mothers breastfeeding longer than 3 and 6 months remains low, 43% and 22%, respectively. While we are moving in the right direction, we still have a ways to go to capture the biggest benefits.  The American Academy of Pediatrics (AAP) recommends exclusively breastfeeding for the first 6 months.  After 6 months, addition of solid foods should be slowly attempted while breastfeeding continues for at least a year. For more information from the AAP, see their website here.
With the emphasis on people eating less processed, more organic food with reduced chem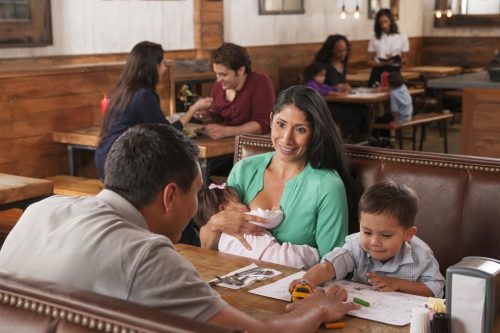 icals, it is surprising that we have not seen a jump in the length of time breastfeeding is provided.  Check out this interesting site which details the different benefits mom and baby can get over time with breastfeeding.  There are many different organizations that offer assistance with breastfeeding issues. Hospitals, health departments, pediatrician offices, and groups like La Leche League.  Many are offered free and will make home visits to help answer any questions or concerns a new mom may have. Be sure to check around and ask your physician to help you locate a breastfeeding program.  And dads, be a breastfeeding support system for the mother of your child.  While we can not personally breastfeed our babies, we can offer the love, encouragement, assistance and support that mom needs to be secure in choosing to breastfeed.
Remember, August is National Breastfeeding Month and Kids Eat Right Month.  Let's help our children get a healthy start and keep them moving in the right direction!
It's Your Life. It's Your Health. Make That Change!
~John