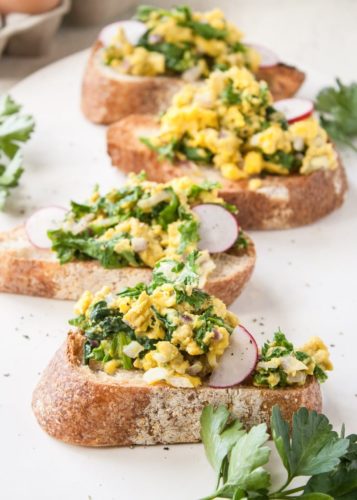 Ingredients:
 Serves 4
2 tablespoons olive oil
4 cups roughly chopped mustard greens
1/2 medium red onion, diced
1 clove garlic, minced
6 large eggs
1/8 teaspoon crushed red pepper flakes
1/2 teaspoon fine sea salt
Pinch of black pepper
4 slices Sourdough Bread, toasted
3 radishes, thinly sliced, to garnish
A few sprigs of fresh parsley, chopped, to garnish
Hot sauce, to garnish
(Photo Credit:  Andrea Bemus)
Directions:
Heat the oil in a large skillet over medium heat. Add the mustard greens, red onion and garlic. Sauté for about 3 minutes, just until greens are wilted and onion and garlic are fragrant.
Meanwhile, whisk together the eggs in a large bowl. Season with crushed red pepper flakes, salt and pepper. When the greens are ready, add the eggs to the skillet. Cook, stirring occasionally, until the eggs are scrambled and fully cooked, 3 to 4 minutes.
While eggs scramble, toast your bread in a toaster oven or regular oven until lightly browned.
To serve, scoop the scrambled eggs onto the toasted bread and garnish with sliced radishes, chopped parsley and a drizzle of your favorite hot sauce.
Recipe Notes
If you cannot find mustard greens at your local farmers market or grocery store, substitute mustard greens with another spicy green such as arugula, or use spinach
To increase nutrients and colors, top each serving with a couple of diced cherry tomatoes
Nutrition Facts:
Per serving, based on 4 servings:
Calories:               234                Carbohydrates:      15 g
Total Fat:             14 g                  Fiber:                         2.2 g
Saturated:             3.3 g                  Sugars:                      1.9 g
Trans:                        0 g                 Protein:                     12 g
Cholesterol:    279 mg
Sodium:            420 mg
Recipe adapted from: www.thekitchn.com/
It's Your Health.  It's Your Life.  Make That Change!