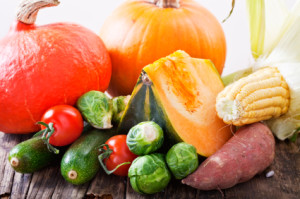 Here is our simple & delicious Brussels sprouts with a balsamic vinegar sauce recipe that was featured on the Morning Joy ECSU radio show this week.   In our experience as Dietitians, it has come up as the absolute top least favorite food of our clients!  Why?   Well, maybe they have memories of plain boiled sprouts or the way the house really gets smelly when you cook them.
Our suggestion– try them again using this recipe!  Approach them with a beginner's mind. They are incredibly good for you—high in Vitamins A & C, folic acid and fiber.  Also, they are cruciferous vegetables.  Cruciferous is a Latin word meaning "cross-bearing" due to the shape of their flowers, whose four petals resemble a cross (Cool!)  Cruciferous vegetables include cauliflower, cabbage, bok choy and broccoli.  Research indicates that these vegetables have anti-cancer properties. 
Our kids love this recipe as as well.  Let us know what you think of this recipe.  Happy Fall to you all!
It's Your Health.  It's Your Life.  Make That Change!
~ Angie & John
Brussels Sprouts with Balsamic Vinegar Sauce
Preparation time: 10 minutes
Serves:  6
Ingredients:
1-1/2 pounds fresh Brussels sprouts
2 cloves garlic, peeled and sliced
1 medium yellow onion, peeled & sliced
2 tablespoons olive oil
1/4 cup balsamic vinegar
dash salt
1 teaspoon freshly ground black pepper
2 tablespoons tub margarine
Directions:
Trim off the stems and remove any limp leaves from the sprouts
Blanch sprouts in boiling water w/top  for 5 minutes
Drain and rinse under cold water to stop cooking
Heat a large frying pan and add the olive oil, garlic and onion
Sauté until the onion becomes tender
Add the blanched & drained sprouts.
Sauté a few minutes until the sprouts are cooked to your liking
Add the vinegar and toss so that all the sprouts are coated
Add the tub margarine, salt and pepper and toss together
Nutrition Facts per Serving:
Calories:                                      136
Fat:                                            8 gm
Saturated Fat:                          1 gm
Carbohydrate:                       13 gm
Protein:                                    4 gm
Fiber:                                        5 gm
Sodium:                                109 mg