Toasted Pumpkin Seeds
Carving a pumpkin this weekend?  Don't throw away the pumpkin seeds!  Toasted pumpkin seeds are a yummy and healthy snack that's high in fiber, protein, unsaturated fat and magnesium.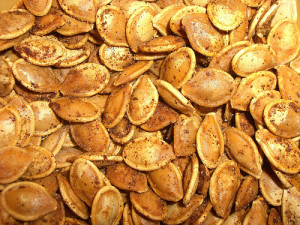 Ingredients:
1 medium sized pumpkin
olive oil
salt
Instructions:
Preheat oven to 400°F. Cut open the pumpkin and use a strong metal spoon to scoop out the insides. Separate the seeds from the stringy core. Rinse the seeds.
In a small saucepan, add the seeds to water, about 2 cups of water to every half cup of seeds. Add a half tablespoon of salt for every cup of water (more if you like your seeds saltier). Bring to a boil. Let simmer for 10 minutes. Remove from heat and drain.
 Spread about a tablespoon of olive oil over the bottom of a roasting pan. Spread the seeds out over the roasting pan, all in one layer. Bake on the top rack until the seeds begin to brown, 10-20 minutes, depending on the size of the seeds. (Smaller pumpkin seeds could toast more quickly.) When browned to your satisfaction, remove from the oven and let the pan cool on a rack. Let the seeds cool all the way down before eating. Either crack to remove the inner seed (a lot of work and in my opinion, unnecessary) or eat whole.
NUTRITION FACTS:
Serving Size:                       1 oz.
Calories:                              250
Total Fat:                              6 g
Saturated Fat:                        1 g
Trans Fats:                              0 g
Cholesterol:                       0 mg
Sodium:                             160 mg
Carbohydrates:                15 g
Dietary Fiber:                         0 g
Sugars:                                      0 g
Protein:                                  5 g
It's Your Health.  It's Your Life.  Make That Change!  
Source:  Simply Recipes http://www.simplyrecipes.com
Photo credit: <a href="https://www.flickr.com/photos/notbrucelee/1960831471/