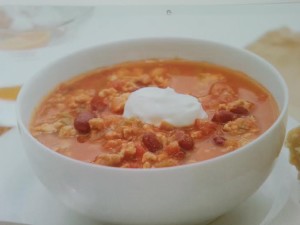 Fall is in the air and it's time to make a pot of chili, pumpkin chili, that is!  This is a quick, easy and healthy form of chili uses pumpkin as a base.  The pumpkin adds a delicious flavor and is loaded with nutrition (especially high in fiber and Vitamin A).
Ingredients:
Chopped Onion – 1 cup
Garlic cloves-1 or 2, minced
Lean ground turkey breast-1 pound
Unsalted Chicken Broth (we like the "Kitchen Basics" brand found at Farm Fresh or Wal-mart)-4 cups
Kidney Beans-1 – 15 ounce can, rinsed and drained
Pumpkin-1 – 15 ounce can (100% pure – Libby's or store-brand)
Diced, No Salt Added Tomatoes – 1 – 15 oz. can
Chili Powder – 1 Tbsp or to taste
Ground Cumin – 2 tsp
Black Pepper – 1/2 tsp
Cayenne Pepper or Tobasco Sauce to taste (if preferred)
Olive Oil – 2T
Light sour cream – 1/2 cup
Directions:
Add olive oil to large saucepan & heat to medium-high heat.  Add onion and saute until onion begins to brown.  Add garlic and saute 1-2 minutes.  Stir in ground turkey and cook, stirring occasionally until no longer pink.  Stir in broth, beans, pumpkin, tomatoes,  chili powder, cumin and black pepper.  Cook 20 minutes or until slightly thick.  Season with cayenne pepper or Tobasco sauce, if desired.  Makes 6 servings.  Top each serving w/a dollop of sour cream, if desired.
Nutrition Facts, per Serving:  Calories-283, Total Fat- 9 gm, Saturated Fat- 3 gm, Polyunsaturated Fat-0gm Monounsaturated Fat-1 gm, Cholesterol – 60 mg, Sodium – 277 mg, Potassium – 367 mg, Total Carbohydrate- 25 gm, Dietary Fiber – 8 gm, Sugars – 7 gm, Protein – 26 gm
It's Your Health. It's Your Life.  Make That Change!