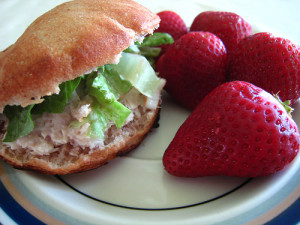 Tuna Pita Pockets
Running out of lunch ideas?  Here is a an inexpensive, easy and healthy one!
Ingredients:
1 1/2 cups shredded romaine lettuce
3/4 cup diced tomatoes
1/2 cup finely chopped green bell peppers
1/2 cup shredded carrots
1/2 cup finely chopped broccoli
1/4 cup finely chopped onion
2 cans (6 ounces each) low-salt white tuna packed in water, drained
1/2 cup low-fat ranch dressing
3 whole-wheat pita pockets, cut in half
Instructions:
In a large bowl, add the lettuce, tomatoes, peppers, carrots, broccoli and onions. Toss to mix evenly.  In a small bowl, add the tuna and ranch dressing. Stir to mix well. Add the tuna mixture to the lettuce mixture and stir to combine.  Scoop 3/4 cup of the tuna salad into each pita pocket half and serve immediately.  Makes 6 servings.
NUTRITION FACTS:
Serving Size:                       ½ pita
Calories:                              200
Total Fat:                                5 g
Saturated Fat:                           1 g
Trans Fats:                                  0 g
Cholesterol:                          20 mg
Sodium:                               350 mg
Carbohydrates:                    23 g
Dietary Fiber:                              4 g
Sugars:                                           2 g
Protein:                                    14 g