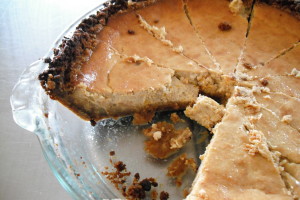 This recipe for Pumpkin Spice Cheesecake was featured on the Morning Joy (ECSU) radio show this week. Pumpkin, especially "Pumpkin Spice" is everywhere this year–from lattes to beer to yogurt and even Oreo's! Pumpkin as a vegetable is actually very low in calories (about 50 calories per 1 cup, raw) and is high in fiber as well as being a very good source of vitamin A, vitamin C, vitamin E, Magnesium, Potassium and Iron. For those of you who cannot get enough "pumpkin spice" this season, here in another way to get your fix but in a lighter way (only 85 calories per slice!).  
Pumpkin Spice Cheesecake
Ingredients:
24 oz. nonfat cream cheese (bar-type)
¾ c. canned pumpkin
1 t vanilla extract
¾ c. egg substitute
2 T cornflake crumbs
½ c. sugar
½ t cinnamon
¼ t ground cloves
12 T Fat Free Whipped Topping
Directions:
Preheat oven to 325 degrees.  In large bowl, combine cream cheese, pumpkin, sugar and vanilla.  Use electric mixer and beat at high speed until well blended.  On low speed, beat in egg substitute and spices.  Increase speed to high and continue to beat until well blended.
Use 9-inch pie pan coated with nonstick cooking spray.  Add cornflake crumbs to the pan and shake lightly to coat bottom and sides with crumbs.  Pour in cream cheese mixture.  Bake at 325 degrees for 45 minutes until center is set but not firm.  Cool on wire rack.  Cool several hours before serving.
Note:  top may crack.  Serve with a dollop of whipped topping to hide cracks.  Serves 12
Nutrition Facts Per Serving:
| | | |
| --- | --- | --- |
| Calories                     85 | Saturated Fat                0 gm | Carbohydrate             14 gm |
| Fat                             1 gm | Sodium                     300 mg | Fiber                             0 gm |
Nutrition Pair ™
It's Your Health.  It's Your Life.  Make that change! ™