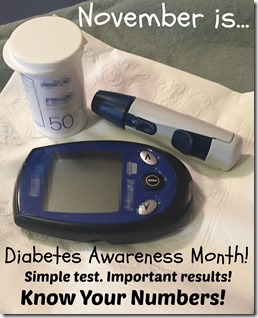 Welcome November and Diabetes Awareness Month! We've gotten through October and Halloween and are looking forward to Thanksgiving, Christmas and the New Year. But first, we need to stop and recognize a potential health crisis. Diabetes continues to play a huge role in the health of our nation and around the world. The good news is that this is a condition you can control! The key to control is Knowing Your Numbers. Have a simple blood glucose check performed and you can quickly assess your diabetes risk or diabetes control. Remember, being overweight, obese or having a family member with diabetes can increase your risk for developing diabetes. Get checked if you:
Have a Body Mass Index (BMI) greater than 25
Lead a sedentary lifestyle
Have a history of Polycystic Ovary Syndrome
Have a history of Gestational Diabetes
Gave birth to a child weighing more than 9 pounds
Have a history of Heart Disease, High Cholesterol or High Blood Pressure
Have a family member with Diabetes
Are 45 years or older
A quick look at what the numbers mean can give you an idea of where you stand. Most often, a Fasting Blood Glucose value will be used. This is preformed after an overnight fast and before any food or beverage in the morning. A one-time test may not always tell you everything you need to know but at least it can help to move you in the right direction!
Blood Glucose
Results
Normal:
Pre-Diabetes:
Diabetes:
Fasting Glucose:
(No food or drink previous 8 hours)
< 99 mg/dL
100-125 mg/dL
>126 mg/dL
on two separate draws.
Random Glucose:
>200 mg/dL
As the table shows, the numbers tell the story. A blood glucose check is a quick and easy way to get more information. If you're not sure what the numbers mean or what you can do to take control, talk with your doctor or health care provider to get more answers and referrals to an education program. Being diagnosed with Pre-Diabetes or Diabetes is not a bad thing, it might just save your life! Don't wait. The time is now to take action to change your life.
"It's Your Health. It's Your Life. Make That Change!"
~John