This is a cool delicious summer salad made with orzo pasta, spinach, feta, pine nuts & Craisins.  It can be served as a main dish or a side.  One of our favorites!  Enjoy!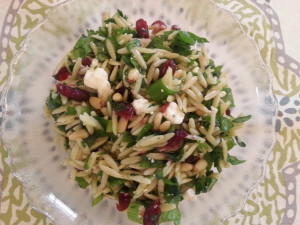 Ingredients:
16 oz Orzo, uncooked
2-32 oz containers of unsalted Chicken Stock (We use Kitchen Basics)
2 tbsp Olive Oil
1 cup Fresh Basil, Julienned
3/4 cup toasted pine nuts
1.5 cup Crumbled Feta Cheese
1 cup Dried Cranberries (We use Craisins)
1- 11 oz. package Raw Spinach
3 stalks chopped Scallions
1 lemon, juiced
1/3 cup Olive Oil
Salt and Pepper (to taste)
Directions:  
Cook orzo in unsalted chicken broth according to package directions but substitute  chicken broth for water. Drain orzo well and toss with 2 tbsp. olive oil.  Spread on cookie sheet lined with parchment paper or wax paper & allow to cool. Mix together orzo, basil, spinach, pine nuts, green onions, Craisins and feta cheese in a large bowl and mix gently.  Whisk lemon juice and 1/3 cup olive oil and toss with salad.  Season with salt and fresh ground pepper to taste.  Can be made the night before, however, do not toss with lemon juice and olive oil until serving. Serves  12.  
Nutrition Facts
Servings Per Recipe: 12
Amount Per Serving
Calories:  370
Total Fat:  19 g
Saturated Fat:  4 g
Polyunsaturated Fat:  4 g
Monounsaturated Fat:  9 g
Cholesterol: 17 mg
Sodium:  262 mg
Potassium:  290 mg
Total Carbohydrate:  44 g
Dietary Fiber: 5.5 g
Sugars:  8 g
Protein:  11 g
It's Your Health.  It's Your Life.  Make That Change!