It's late April and it is starting to get warmer outside.  This healthy dish is a gazpacho soup (a cold Spanish or Mexican soup made from vegetables and served chilled).  When the temperatures begin to rise, you will find this soup to be incredibly cool and refreshing.  The mint and cucumber aid in the cooling effect.  This recipe is also amazingly fast, easy and healthy!
Ingredients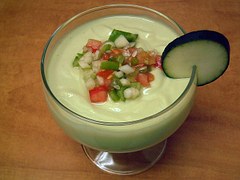 (Makes 2 servings)
2 medium-sized cucumbers, peeled & lightly chopped (~ 2 cups)
1 avocado
Juice of 2 large lime (or 1/4 cup lime juice)
2 packed tablespoons fresh mint
1 teaspoon green onion
Chili powder, pinch
Directions
Combine cucumber, avocado, lime juice, mint & green onion in a blender and purée well. Serve in chilled bowls and top with a pinch of chili powder. Eat immediately, or refrigerate until ready to enjoy. Can be served topped with sliced green onions, finely chopped tomatoes & slice of cucumber as an appetizing garnish.
(Recipe adapted from eatnaked.com)
Nutrition Facts
2 Servings (Amount per Serving)
Calories                                194.0
Total Fat                               14.3 g
Saturated Fat                        2.0 g
Polyunsaturated Fat            1.9 g
Monounsaturated Fat         8.6 g
Cholesterol                          0.0 mg
Sodium                                 49.8 mg
Potassium                           828.0 mg
Total Carbohydrate             16.7 g
Dietary Fiber                         8.8 g
Sugars                                     3.9 g
Protein                                     3.5 g
It's Your Health.  It's Your Life.  Make That Change!