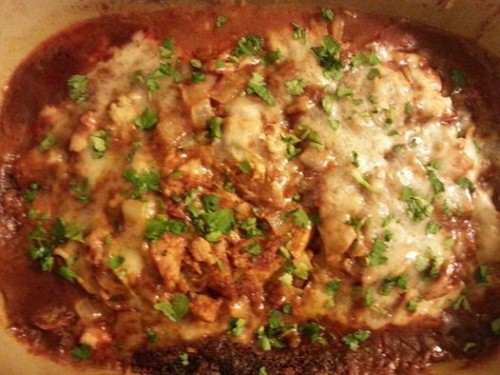 This is an easy, healthy, kid/teen approved casserole made with chicken, quinoa & black beans. It's a perfect dish when you are cooking for a crowd or if you are one who likes leftovers or "planned overs" like we do.  It makes 10 servings!  Also, this dish is gluten-free which is helpful for those folks who need to avoid gluten in their diet.
Quinoa is high in protein (has the most protein of any of the grains) and gluten free. Additionally, it is high in magnesium, zinc, iron and folate. Do you have any favorite quinoa recipes?  Please feel free to post & share with us!
Ingredients:
1.5 cup uncooked quinoa (rinsed in water)
1-14 oz. can low sodium cooked black beans, rinsed
1.5 cups low sodium salsa ("Marie's" has a low sodium brand)
1.5 cup unsalted chicken broth (We like "Kitchen Basics") (plus ½ cup more, if needed)
1-2 cloves minced garlic
1.5 cups Kraft 2% Mexican 4 Cheese Blend Shredded Cheese
1 T olive oil
1-2 T sliced jalapeno
1 medium onion, chopped
2 green peppers
2 red peppers
1.5 lb. boneless skinless chicken tenders, cut into small pieces
2 T homemade taco seasoning (1 T chili powder, 1 T onion powder & pinch of cumin)

Instructions:
Preheat oven to 375 degrees. Mix quinoa, black beans, salsa, chicken broth, garlic & ½ cup of the shredded cheese in a large bowl. Transfer to a well-greased casserole dish (approx. 9X13 inch size).  We use our Pampered Chef Deep Covered Baker and it works perfectly for this dish.  Bake for 30 min.
While this mixture is baking, heat the olive oil in a large skillet. Add the jalapeno, onion, and peppers.  Saute until golden brown and tender-crisp. Remove from heat and set aside.
Toss the raw chicken with the taco seasoning. When the quinoa is done with the first 30 minutes of baking, stir it really well and add the raw chicken.  Stir the chicken into the mixture to get the chicken mostly covered by the mixture, and return to the oven for another 30 minutes of baking.  If you notice any uncooked pieces of quinoa on top, just stir and bake a bit longer (may help to add a little more chicken broth).
When the quinoa is done, top with the peppers and remaining cheese. Bake another 5-10 minutes or until the cheese is melted.
(Note:  Recipe Adapted from "Pinch of Yum")
NUTRITION FACTS (Per Serving):
Calories:                               320
Total Fat:                             8 g
Saturated Fat:                   2.8 g
Trans Fat:                            0 g
Cholesterol:                       55 mg
Sodium:                               300 mg
Carbohydrates:                 33 g
Dietary Fiber:                     7 g
Sugars:                                 2 g
Protein:                                27 g
It's Your Health.  It's Your Life. Make That Change!