This is a budget-friendly, diabetes-friendly, very quick and very easy salmon cake recipe.  Salmon is an extremely healthy food—it's high in Vitamin D & very rich in omega-3 fatty acids (which can improve lipid values, reduce arthritis pain, boost immunity and possibly reduce memory loss & depression).  All this for less than $3 a can and under a dollar per serving!  We keep cans of salmon in the pantry for those nights when we need a "throw together fast" meal.  For quick, easy & healthy sides, add cooked spinach (microwave from frozen and drizzle with olive oil and the same Mrs. Dash blend here) & brown rice (instant, boil in bag).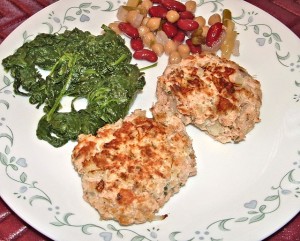 Ingredients:
2 Tbsp. (30mL) Mrs. Dash® Garlic & Herb Seasoning Blend
1/2 cup (120mL) plain dry bread crumbs (Panko-unsalted variety is our favorite)
1can (15 ½  oz.) red salmon, drained (or 2 cups cooked, flaked salmon)
1 tsp. onion powder
¼ cup diced red pepper or 4 Tbsp. drained pimento from jar
½ cup plain/regular oatmeal
1 tsp. lemon juice
4 drops Tabasco sauce
1/4 cup Egg Beaters
2 T olive oil
Instructions:
Mix together Mrs. Dash® Garlic & Herb Seasoning Blend & dry bread crumbs/Panko in a small bowl. Set mixture aside.
Combine all remaining ingredients (except the olive oil) in a medium sized bowl. Mash salmon bones (do not remove bones-they are a great source of Calcium!).
Shape salmon mixture into four cakes.
Sprinkle ¼ of the bread crumb mixture onto a plate. Coat one of the cakes on both sides with the mixture (can roll it on the sides to coat the edges as well).  Repeat this process three more times.
Add olive oil to a non-stick skillet or cast iron skillet and allow to heat. Add cakes to skillet and cook over medium heat, turning once, until lightly browned on each side.
Tip:  Make a large batch of the bread crumb mixture and keep in the refrigerator.  We also use this mixture for making chicken fingers-  http://nutritionpair.com/diabetes/mrs-dash-chicken-fingers
NUTRITION FACTS:
Serving Size:                        4 oz.
Calories:                                 310
Total Fat:                                 15 g
Saturated Fat:                         2 g
Trans Fats:                               0 g
Cholesterol:                             0 mg
Sodium:                                   60 mg
Carbohydrates:                      17 g
Dietary Fiber:                          2 g
Sugars:                                         1 g
Protein:                                      25 g