This incredibly healthy, colorful and fresh Mediterranean Pasta Salad can be a side-dish, snack or an entree salad. It's quick to throw-together and it does not last long at our house. The flavors and textures are so perfect together!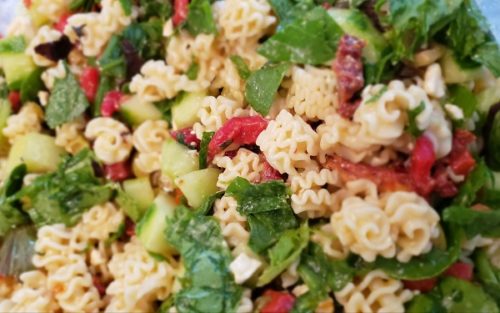 Salad Ingredients:
6 ounces textured pasta like penne or rotini (Gluten-Free if desired)
4 oz. roasted red peppers (from jar)
2 oz. sundried tomatoes (or 1/2 cup diced fresh tomatoes)
1 cucumber (peeled and diced)
2 cups argula, spinach or baby kale (stems removed and sliced)
1 T green olives (sliced)
1 T black olives (sliced)
2 T crumbled feta cheese
1 can (15.5 oz) Garbanzo beans (drained and rinsed)
fresh parsley or basil (if desired)
Dressing Ingredients:
1/4 cup olive oil
2 T red wine vinegar
1 T lemon juice
1 garlic clove, minced
1 T fresh mint, chopped
 pepper to taste
Directions:
Cook the pasta according to the al-dente directions on the box. Drain (do not rinse) and transfer pasta to a large serving bowl.
Add dressing ingredients to a small bowl, whisk together and immediately toss the pasta with the dressing.
Add the remaining salad ingredients and toss all ingredients until coated with dressing.
Serve immediately or allow to thaw for 1-2 hours in the refrigerator.
Enjoy!
Nutrition Facts (Per Serving; Makes 4 Servings):
Calories: 

420

Total Fat: 

16.8 g

Saturated Fat: 

2.3 g

Polyunsaturated Fat: 

1.2 g

Monounsaturated Fat: 

10.2 g

Cholesterol: 

2.5 mg

Sodium: 

350 mg

Potassium: 

315 mg

Total Carbohydrate: 

57 g

Dietary Fiber: 

10.0 g

Sugars: 

2.2 g

Protein: 

12.8 g
Excellent source of Vit A, Folate & Thiamin
It's Your Health. It's Your Life. Make That Change!