This is a fast, easy and delicious way to use up those Thanksgiving turkey leftovers!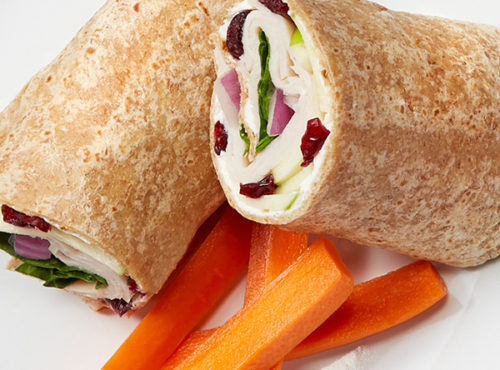 Ingredients: 
2 cups chopped turkey
2 cups salad greens or spinach
½ cup corn (fresh, frozen or canned no-salt added)
½ cup shredded carrots
½ cup Craisins
½ cup cranberry sauce
4 Whole Wheat Flour Tortillas
Directions:
Combine turkey, salad greens/spinach, corn, carrots and Craisins in a bowl.  Warm tortillas according to package directions or serve as is.  Spread 2 T of cranberry sauce on each tortilla and add 1 cup turkey mixture.  Roll up.  Cut each wrap in half diagonally.
Nutrition Facts Per Serving (Makes 14 Servings):
Calories:  370
Fat:  6 gm
Carbohydrate: 50 gm
Sodium: 350 mg
It's Your Health.  It's Your Life.  Make that change! ™