Summer's here and so are those delicious summer vegetables–tomatoes, cucumbers and peppers, Oh my!  Try them with this chilled pasta salad dish.  It will be the perfect side-dish to take to a Fourth of July celebration!  It is kidney-friendly too for those with Chronic Kidney Disease.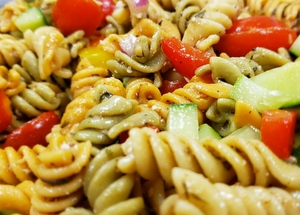 Ingredients:
12 oz Box Tri-Color Rotini
1/2 green pepper, diced
1/2 red pepper, diced
1/2 orange pepper, diced
1/3 cup red onion, diced
1/3 cup cucumber (w/skin), diced
1 pint grape tomatoes, halved
1 cup bottled Italian Vinaigrette dressing
1/3 cup parmesan cheese
1/2 tsp Italian seasoning
Directions:
Boil pasta. Follow the "al dente" instructions on box.
Combine all ingredients in large bowl. Add dressing and mix.
Chill for at least 2 hours in the refrigerator. Serve and enjoy!
Makes 12 Servings
Variations:  You may reduce sodium content in this recipe by omitting the bottled salad dressing & adding 3/4 cup olive oil and 1/4 cup of your favorite vinegar (red wine or white wine vinegar work very well for salad dressings).  Also, try adding any other favorite vegetables (shredded carrots, artichokes, sliced spinach, etc) and/or 2 cups of any canned, rinsed beans.
Nutrition Facts (Per Serving)
Calories: 150
Fat: 5 gm
Sodium: 240 mg
Potassium: 45 mg
Carbohydrate: 25 gm
Protein: 5 gm
Excellent source of Vitamin A & Vitamin C; Good Source of Folate & Thiamin
It's Your Health! It's Your Life! Make That Change!