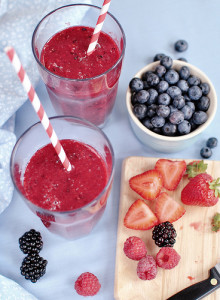 No matter how crazy your mornings are, don't skip breakfast!  Eating breakfast lowers our risk of Type 2 Diabetes, heart disease and obesity.  Try this quick & easy breakfast smoothie that can even be made before you go to sleep.  Kid tested & kid approved too!
Ingredients:
1 banana
1 cup frozen fruit:  blueberries, strawberries, blackberries or pineapple (or a combination)
1/3 package silken tofu
2 cups non-fat milk or vanilla soy milk
1 cup low-fat vanilla yogurt
3 T wheat germ
1 T ground flax seeds (optional)
Instructions:
Put all ingredients in a blender.  Blend until smooth. Serve.  Makes 4 servings.
Tip:  Except for the banana, this recipe can be made the night prior and put in the refrigerator.  In the morning, add the banana and blend.  Kids love it too!
NUTRITION FACTS
Serving Size:                       1 Cup
Calories:                              180
Total Fat:                              4 g
Saturated Fat:                        1 g
Trans Fats:                             0 g
Cholesterol:                           0 mg
Sodium:                                50 mg
Carbohydrates:                      28 g
Dietary Fiber:                           5  g
Sugars:                                   18 g
Protein:                                   9 g
 It's Your Health.  It's Your Life.  Make That Change!
photo credit: https://www.flickr.com/photos/topsynette/7788355738/