Went grocery shopping the other day and was looking for my regular OJ.  Searching for pulp free without any added calcium or other stuff.  A new carton caught my eye.  Made by HomeMaker Premium, this OJ seemed different.  As you may know, I enjoy reading labels and analyzing what the label says and how it compares to the packaging on the front of the carton.  So, this product made me stop and read.  My first thought was, "What is OJ + Energy?"  Checking the carton, I soon realized the "Energy" was fro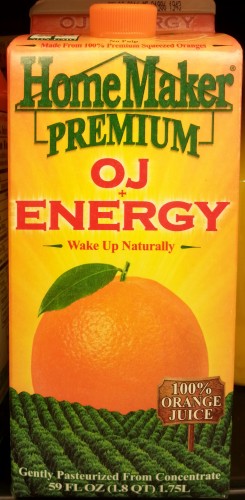 m added Caffeine!  Not what I was expecting from an Orange Juice.  OJ by itself provides you with enough calories in the form of carbohydrate to give you a tremendous amount of energy.  Why add caffeine?
What I did not immediately see, though, is anything telling me that caffeine had added.  Check out the front of the package.  See any evidence of caffeine?  What stands out to me is the sign stating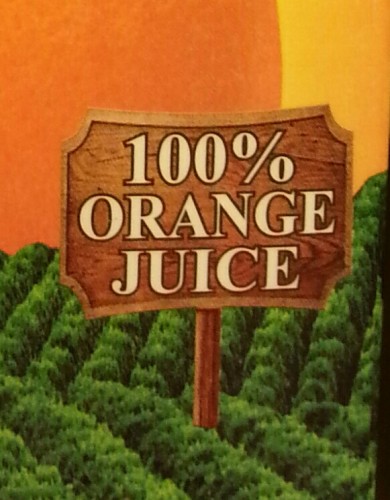 "100% Orange Juice".  While it is 100% juice, caffeine has still been added and I've never seen caffeine in OJ  before.  And, the last time I checked, caffeine was not a NATURAL ingredient in oranges.  We normally buy the HomeMaker brand of orange juice because of the taste, the quality and the cost.  However, when seeing their new offering, I was disappointed.
The more I thought about this product and where it was located in the grocery store, the more concerned I became.  Would a patient with heart disease trying to eliminate caffeine from their diet recognize the added caffeine in this product? How about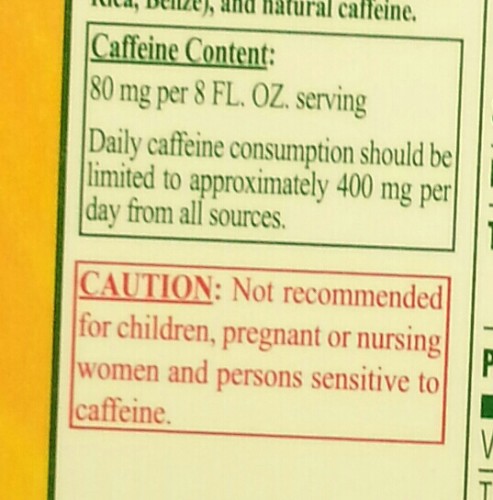 a child that drinks 12 ounces of OJ at time.  What happens there?  I was impressed to see that the company did add a warning box, highlighted in red, on the Nutrition Facts side of the box stating that children, pregnant or nursing women, and persons sensitive to caffeine should not drink it.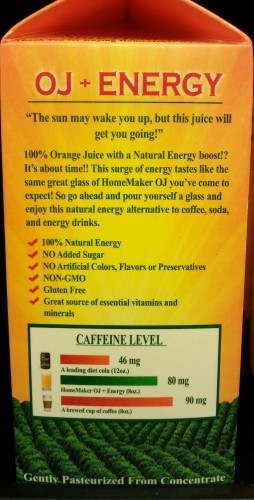 They also took the time to complete a full side panel to compare the caffeine content of different beverages to the OJ with added caffeine.  However, I was still uncomfortable with seeing caffeine added to OJ and being promoted as a "Natural Energy boost".  With the carbohydrate content in Orange Juice, it provides its own energy source and does not need an added punch to do that.  To "Wake up Naturally", as the front of the package claims, does not have to require adding caffeine to OJ.
While I was doing research on this product, I found the contact information and decided to submit an email to offer my concerns about what I saw.  Within 20 minutes of sending the email, I received a phone call from the company. I was fortunate to be speaking with Mr. Brandon Saltmarsh, one of the family owners of HomeMaker!  He took time out of his day to call and discuss my concerns.  We spoke about why the company decided to offer this new product.  He stated that they are trying to offer a healthy alternative to the energy drinks flooding the markets.  I often discuss, especially with middle and high schoolers,  the problems/dangers of energy drinks, especially when they are marketed to teenagers!   He did ask me to take a look at the packaging and caffeine content for the energy drinks and the V8 Fusion + Energy drinks.  Interestingly, the products all contain about the same amount of caffeine, 80 mg for an 8 ounce serving. Mr. Saltmarsh's contention was that energy drink manufacturers try to conceal the amount of caffeine in their products.  It is true, warning labels and caffeine content are more difficult to find on the energy drink packaging.  But, the difference between OJ and energy drinks is that I know what I'm looking for in an energy drink and what to expect.  If I go to the OJ section, I'm not thinking about  added caffeine…although, I guess I will now.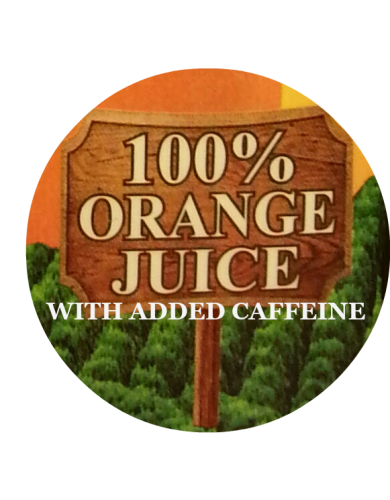 But my feelings are that they don't need to confuse the public by mixing the caffeine added OJ in with the regular versions.  One of suggestion was to add a statement indicating that caffeine has been added to the OJ.  Maybe a bit more prominent by adding it to the sign on the front of the container, like I did in the photo.
What it all boils down to is, you have to be aware of your food choices.  Use the food labels and the ingredient lists to help you find foods that will help you reach your health goal.  As we often say, no need to read food labels when you're choosing fresh fruits and vegetables!  And when you choose juices, keep them to no more than 6 oz each day.  You're better off eating fruit than drinking it!
I do want to thank Mr. Saltmarsh for taking the time to speak with me today!  I look forward to seeing how your new product progresses.  But C'Mon Man!  Do we have to have caffeine added to Orange Juice?
~John
It's Your Health. It's Your Life. Make That Change!