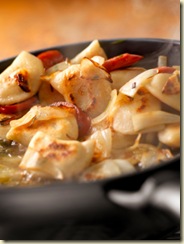 It's Monday!  Are you going Meatless today?  Going meatless at least one day a week is an increasingly popular trend. And why not go meatless, even if it is only for one day a week???  You will save money, reduce your saturated fat intake and help the environment.
For those of you who recognize practice fasting and abstinence from meat on the Fridays during Lent, it sometimes gets difficult to find meal ideas.  I wanted to share a healthy, easy, delicious, low cost recipe that John and I made up and our children love.  In fact, they ask for it at least once a week!  Enjoy!
Spinach and Tomato Pierogies
Ingredients:
– One Vidalia/sweet onion, chopped
– 1 clove garlic, minced
– 2 T Extra Virgin olive oil
– 1 16 oz. bag frozen, chopped spinach (we use Pictsweet)
– 2 – 14.5 oz. cans No Salt Added Diced Tomatoes (we use generic)
– 16 frozen pierogies (we use Mrs. T's Potato & Cheddar Pierogies)
Directions:
Sauté onion, garlic and olive oil in a large skillet until onions are transparent.  Add 2 cans of no-salt added tomatoes (undrained) and 1 (about 20 oz) bag of frozen spinach. Let these simmer in a saucepan on low with the top on. Place 16 frozen pierogies in a bowl with hot water.  Allow to sit about 5 minutes.  Drain the water and add hot water again (to warm them up). When they no longer feel frozen inside, pour off the water and add to your tomato/spinach saucepan mixture. Allow to simmer covered on a low temp for 5-10 minutes and then serve topped with parmesan cheese. This will make 4 adult-size servings (4 pierogies each). 
Nutrition Facts, per serving:
Calories:  356
Fat:  10 gm

Monounsaturated Fat:  5gm 

Sodium:  780 mg
Carbohydrate:  57 gm
Protein:  9.5 gm
————————————————————————————-
For recipes & more information about Meatless Monday, visit:  www.meatlessmondays.com
For more meatless Mrs. T's Pierogie recipes,  visit: http://www.pierogies.com/
It's Your Health. It's Your Life. Make That Change!™
~ Angie