One of my favorite segments on ESPN is the "C'Mon Man" spot.  In this part of the Monday Night Football Pregame show, they review happenings from the weekend games of the weird, unexplainable, laughable and plays or actions that make no sense. While reading the paper on Sunday, I had my own Nutrition "C'Mon Man!" experience.  The Parade Magazine for January 9th was headlining a question: "What is Your Health I.Q.?".  With an apple on the front cover, I thought there may be some helpful health news on the inside.  While the article did address some common health myths/questions such as does milk ca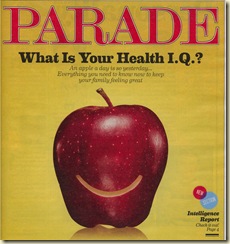 use an increase in mucus production (No) or can honey help a burn heal (Yes) and where is the most dangerous place to gain weight (Belly), that was not the issue.  The problem I have with the publication are some of the other articles included.  In this "health" issue, the recipe spotlight, Chicken Fried Steak! Providing you with close to 700 calories, 47 g of fat and 1,100 mg of sodium, this recipe plays into our nations health problems.  C'MON Man!  You're going to tell me that after putting health information together you want to spotlight a high calorie, high fat, high sodium dish!  At the same time, you're also making it sound like eating an apple is not a smart way to go by stating "An apple a day is so yesterday"!  Poor editing!  You lose my respect!
Here's my second nomination for the Nutrition C'MON Man!:  I received an email urging my support for the Juvenile Diabetes Research Fund.  How can you support this cause?  You can buy a booklet of coupons valued at $15 for just a small donation of  $5.  Sounds like a bargain, right?  But  wait, the coupons are redeemable at Bojangles.  Yep, that Bojangles where a PLAIN  biscuit will give you 240 calories, 12 grams of fat, 3 grams of saturated fat and 663 mg of sodium!  So who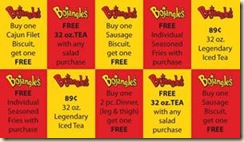 is promoting this deal?  A hospital pediatrics unit!  They're excited too.  They are offering a special deal: Buy their coupon book and you get to  replace the free tea when you buy a salad with a buy one sweet potato pie get one free bargain! C'MON MAN!! Your actions must support your cause!  While I support the cause, I will not support this program!
These types of programs and promotions are part of the reason why so many people are confused when it comes to health choices. We continue to support the actions that are part of the cause for poor health. I refuse to give donations for "Relay for Life"  teams selling barbeque plates and hot dog dinners.  I will not support youth sports programs by selling doughnuts.  We are not thinking outside the box.  I know times are tight and all noble causes need funding to survive and promote their programs but at what cost do we do this?  We are trying to take the easy way.  How can we on one hand talk about the poor health of our nation yet on the other encourage the visitation of a fast food restaurant?  There is a disconnect here that needs attention. 
My final nomination for Nutrition C'MON MAN!: While visiting a hospital recently, I noticed a sign in the cafeteria stating: "New Year's Resolution: Indulge!"  Beneath the sign was a dessert and coffee table loaded with high calorie junk food.  What kind of message is this sending?  This promotion is occurring at the same time that the hospital is trying to encourage its teammates to sign a healthy living pledge to help reduce health care costs. C'MON MAN!!   Does it make sense to promote indulgence in junk food while raising insurance deductibles?  We must do better!  It is unacceptable for a hospital to send this message.
Once again, I encourage you to take your health into your own hands!  Exercise more, eat more meals at home, increase your intake of fruits and vegetables and don't look for the easy button to better health.  Make the commitment to yourself. To healthcare workers, I say, it is your responsibility to make sure your actions support your cause. Be the change you want to see in your clients.  Make it happen!
It's Your Health.  It's Your Life.  Make that Change!
~John