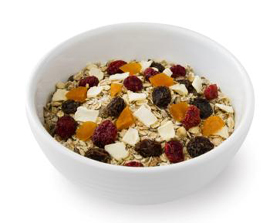 Sharing a quick and easy summer breakfast that I've been enjoying since the weather has warmed up…This recipe for Summer/Swiss Oatmeal was given to us by our good friend and colleague, Jennifer Spellman.  Jennifer is the Director of School Nutrition Services for Great Falls Public Schools in Great Falls, Montana.
This is the perfect combination of high quality complex carbohydrates and low saturated fat protein.  It is a quick, easy and filling breakfast.  The recipe for one serving is as follows:
Summer/Swiss Oatmeal
1/2 cup Quaker oats, Scottish oats, or steel-cut oats
4 oz skim milk (or soy milk)
cinnamon to taste
dash of salt
fruit of choice (blueberries, bananas, raisins or dates, etc.)
4 oz  of 2% or 0% plain Greek yogurt*                                                                                                                                                                                           2tsp. Flax Meal (optional)
1Tbsp Favorite chopped nuts (optional)
The night before, combine oats, milk, salt, and cinnamon. Stir and store in tight container overnight. The next morning, stir in the yogurt, flax meal, fruit, and nuts. This dish can be sweetened with 1 packet Splenda or 1 Tbsp maple syrup.  Enjoy!!!
I've been enjoying this using steel-cut oats, dates and macadamia nuts.  It makes for busy mornings make easier,   just remember to mix the oatmeal, cinnamon and milk before heading to bed the night before!
*I make my own Greek yogurt the night before:  take 3/4 cup non-fat plain yogurt and strain using either cheesecloth or a small strainer.  (This is a much more economical way to make Greek yogurt, or "labneh").
Nutrition Facts, per serving:
Calories:  420
Fat:  13 gm

Saturated Fat:  2 gm
Trans Fat:  0 gm

Sodium:  270 mg
Carbohydrate:  66 gm
Protein:  19 gm
It's Your Health. It's Your Life. Make That Change!™
– Angie?????