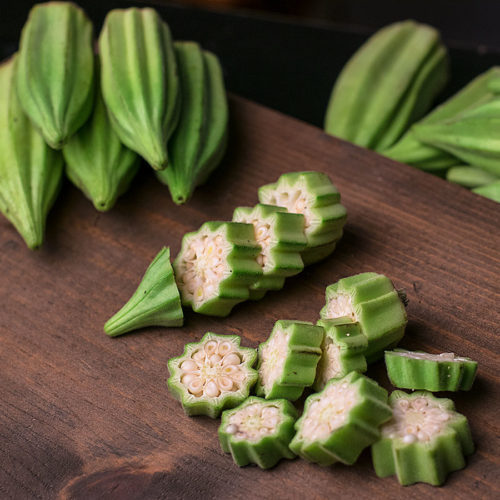 This Okra & Tomatoes recipe is so easy and so delicious! We live in the South and most people here prefer to have their okra fried and have usually not eaten it cooked any other way. Here is a healthy, delicious alternative that we often share with our clients.  Okra is a low calorie vegetable high in Vitamin A, Vitamin C, B-Complex & Folate. One surprising benefit of okra is found in the phytochemical, mucilage, which aids digestion and helps to reduce constipation. Remember, the health benefits of phytochemicals cannot be bottled, they must come from the source (the plant). So….eat (and enjoy!) your fruits and vegetables!
Ingredients:
1 medium onion, chopped
1 clove garlic, minced
2 T olive oil
1 package (16 oz frozen cut okra)
2 cans (14.5 oz) No Salt Added Chopped Tomatoes
1/2 t red pepper flakes
pepper to taste
Directions:
In large skillet, saute onion & garlic in oil.
Add okra, tomatoes, red pepper flakes and pepper.
Simmer over low heat for 20 minutes.
Serve over cooked rice with grilled or baked meat on the side (if desired).
Nutrition Facts (Per Serving; Makes 6 Servings)
Calories: 

84

Total Fat: 

4.9 g

Saturated Fat: 

0.7 g

Polyunsaturated Fat: 

0.5 g

Monounsaturated Fat: 

3.4 g

Cholesterol: 

0 mg

Sodium: 

9 mg

Potassium: 

380 mg

Total Carbohydrate: 8

 g

Dietary Fiber: 

3.5 g

Sugars: 

4.5 g

Protein: 

2.6 g
Excellent source of Vit A, Vit C, Vit B-Complex, Manganese & Folate
It's Your Health. It's Your Life. Make That Change!