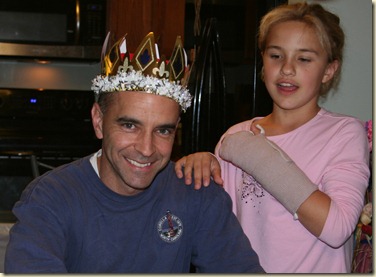 Today is World Diabetes Day.  Millions of people around the world have united to help bring awareness to this chronic disease that affects 371 million people (half of which are undiagnosed).  This past August, I celebrated my 21st year of living with Diabetes.  That's right, Celebrated!  I'm excited to have accomplished all that I have because of Diabetes.  Is being diagnosed with Diabetes hard?  Yeah, sometimes.  But life, in general, is hard at times.  Barriers are barriers only if we let them be.  We hold the keys to our own happiness and health.  We can't control others or control all events in our life BUT, we can control how we respond to those events. Every challenge and difficulty we face gives us the opportunity to find out more about ourselves and to discover new ways to succeed. 
I have always maintained that had I not been diagnosed with diabetes, I would not be where I am today.  Diabetes changed my life in an overall positive direction.  Because of diabetes, I discovered new interests, new careers, new friends and a renewed purpose.  Because of diabetes, I met the woman that would become my wife and mother of our children.  Because of diabetes, I am a better person.  To me, diabetes is cool.  Yes, having diabetes still sucks, but you cope.  Sure it makes me different when comparing me to my peers, but when working with clients that have diabetes, it gives us something in common.  I know I may have viewed it differently had I been diagnosed with diabetes while still a child.  But for me, the diagnosis of diabetes saved my life!!!
"When one door of happiness closes, another opens; but often we look so long at the closed door that we do not see the one which has been opened for us."  -Helen Keller
For more information about World Diabetes Day, visit:  http://www.idf.org/worlddiabetesday
~ John
It's Your Health!  It's Your Life!  Make That Change!