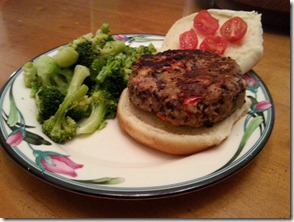 We've been talking about this recipe for some time now. We finally posted it. This recipe was adapted from Awesome Black Bean Burgers found on www.seriouseats.com. This is a fantastic recipe that provides much flavor and is very filling. Play around with the seasonings and ingredients to find your flavor. The best tip was to cook the black beans first. That really does help to firm up the patties. Serve it with some steamed vegetables and fresh corn and you'll have a very tasty meal. The Nutrition Facts can be found at the bottom. Have fun preparing and eating this great burger!
Bodacious Black Bean Burgers!
Ingredients:
2 15 oz. cans of Low Sodium Black Beans ½ cup Feta Cheese
2 Tablespoons Olive Oil 2 Tablespoons Light Miracle Whip
1 small Onion, finely cut 1 teaspoon Garlic
1 small Red Pepper, finely cut 1 Whole Egg, beaten
½ small Green Pepper, finely cut ¾ cup Plain Panko (Low Sodium)
½ cup Roasted Cashews ½ TBSP Mrs. Dash Steak Grilling Blend
Directions:
1. Preheat oven to 350. Rinse the Black beans and spread in single layer on a cookie sheet lined with aluminum foil.
Cook beans for approximately 20 minutes. (Cooking beans help to eliminate liquid and provide for a more firm burger.)
Allow beans to cool after cooking.
2. While beans cook, cut onions and peppers finely. Heat olive oil in pan. Sautee onions and peppers, add garlic.
Let onion and peppers continue to cook and soften and mix flavors. Place cooked pepper and onion in a large bowl.
3. Place cashews in food processor. Using pulse mode, chop cashews. Typically takes 10-12 short pulses. Add cashews
to onion and pepper mixture.
4. Place beans and feta cheese in food processor. Mix until it has a consistency close to that of ground beef.
Add mixture to the onion, peppers and cashews.
5. Add panko, Mrs. Dash, Miracle Whip and egg to mixture. Fold together using hands. Mixture will become sticky.
Remember, if you are using an egg, you must wash hands after folding mixture.
6. Form into 8 patties of equal size. Should fit easily within palm of hand.
Black Bean Burgers can be grilled or cooked indoors. Medium heat should be used to allow patties to firm up without burning outsides.
Using olive oil or not stick spray, coat pan. Allow pan to heat and then place burgers in to cook.
Allow approximately 5 minutes of cook time on each side. Once flipped, add cheese slice for extra flavor. Enjoy!
Note:
Ø You can use ¼ cup of egg substitute in place of the egg.
Ø Low sodium beans and panko help to keep this a lower sodium meal.
Ø Patties can be stored for 3 days in the refrigerator in a sealed container.
You can also freeze patties on parchment paper and then place in a zip-lock freeze bag.
Remember to place a piece of parchment paper between each patty. Allow to thaw approximately 1 hour before cooking.
Nutrition Facts
Serving Size: 1 Burger (166 g)
Servings per recipe: 8
Calories 297
Calories from Fat 108
% Daily Value*
Total Fat 12g 19%
Saturated Fat 3g 15%
Trans Fat 0g
Cholesterol 29mg 10%
Sodium 176mg 7%
Potassium 481mg 14%
Total Carbs 36g 12%
Dietary Fiber 11g 43%
Sugars 3g
Protein 14g
| | | |
| --- | --- | --- |
| Vitamin A 9% | Vitamin C 28% | |
| Calcium 10% | Iron 17% | |
* Based on a 2000 calorie diet