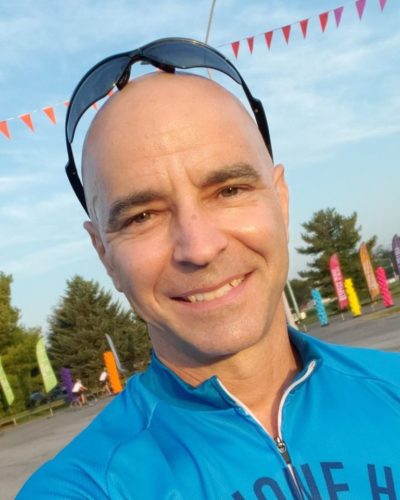 15 Fun Facts about John (as told by his wife, Angie) in honor of Diabetes Awareness Month:
Besides having B.S. & M.S. degrees in Nutrition, he also has a B.S. degree in Political Science.
He takes diabetes very seriously. When he was diagnosed with Type 1 Diabetes 28 years ago, he decided to return to college & study Nutrition. He wanted to help as many people as possible.
He met his wife Angie (also a Dietitian) in Nutrition Assessment class at James Madison University.
He is the father of two teenagers, Jonathan & Bayleigh. Jonathan (the oldest) is a Freshman at the University of Florida & is studying Sports Journalism.
He once played the Leader of the Lollypop Guild in The Wizard of Oz. 

🍭

He is a baller! 

🏀

 He played point guard on his high school basketball team & many years for our local Rec League (just got a call to return! Will he? Stay tuned!).
He has been in the presence of a Saint (Pope John Paul II in Mile High Stadium).
His favorite pastime is attending college football games. 

🏈

His second favorite pastime is tailgating!
He eats 2 apples EVERYDAY. 

🍎

🍎

His favorite food is pizza. 

🍕

He exercises each day of the week. This includes running, weight lifting, Angie's spin class & biking.
He rides his bike to the office when he can.
He has 3 alpacas ("V.E.G." – "Vision, Ella and Giselle"). 

🦙

🦙

🦙

One Halloween, he dressed up as a cheerleader and cheered for his patients as they were receiving dialysis (encouraging them to take their Phosphate binders!).
And a Bonus Fact!
He is an awesome cake decorator 

🎂

 and has even decorated a wedding cake!
It's Your Health. It's Your Life. Make That Change!