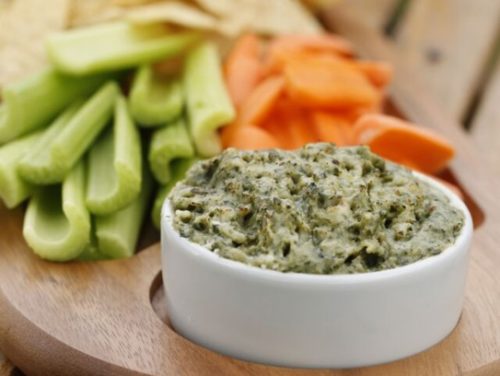 This version of the classic spinach dip has been lightened up to be lower in calories, fat and salt.  The addition of artichokes and parmesan cheese delights the taste buds!
Spinach is an excellent source of vitamins A and K. Like other leafy greens, spinach is also high in folate, iron, fiber, magnesium, calcium and vitamin C.
Artichokes are high in fiber phytochemicals .  Artichokes also contain inulin, a prebiotic fiber that can nourish the "good" bacteria that line your intestinal tract and ward off E. coli and other food-borne bacteria.
Ingredients:
1 Box (10oz) frozen, cut Spinach                                                ¼ Cup Parmesan Cheese
½ Cup Artichoke Hearts (from a 14-oz can)                           ¼ Cup Light Mayonnaise
2 Medium Green Onions (2 TBS)                                               ¼ tsp Pepper
1 Glove Garlic, finely chopped                                                     ¼ tsp salt (optional)
1 ½ Cups Reduced Fat or Fat Free Sour Cream
Directions:
Cook spinach and allow to cool.  Squeeze spinach to drain excess fluid.
Drain and finely chop the Artichoke Hearts.
Mix all ingredients in a medium bowl.  Refrigerate at least 2 hours before serving.
Serve with vegetables such as carrots, celery, cucumbers or one of your favorites!
Nutrition Facts:
Makes approximately 10 servings
1 serving = ¼ Cup
Calories:               60
Total Fat:             1 gram                  Total Carbs:        9 grams
Saturated Fat:   0.5 gram               Dietary Fiber:     1 gram
Trans Fat:            0 gram                  Sugars:                 2 grams
Cholesterol:          5 mg                     Protein:                 3 grams
Sodium:               250 mg
It's Your Health.  It's Your Life.  Make That Change!