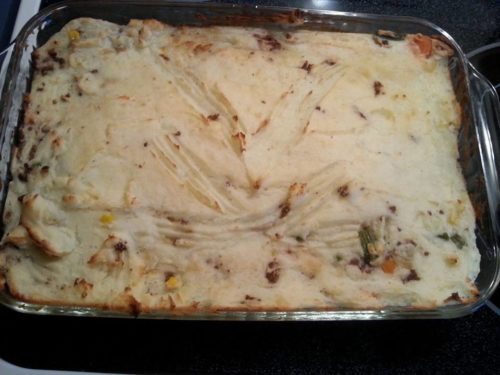 Here is an easy, delicious recipe for Shepherd's Pie that our teenage son loves to make for us. An Irish tradition, this recipe is perfect for St. Patrick's day. And, this recipe is the epitome of comfort food–perfect for warming you up on those cold, rainy, dreary days that seem to linger on through March.
Ingredients:
1 lb. 93% Lean Ground Beef
1 medium onion, chopped 1-10.75 oz can Condensed Cream of Mushroom Soup (Campbell's Healthy Request) 1 T Ketchup 1/8 t ground black pepper 1 cup frozen peas & carrots 1 cup skim milk 2 T butter 1 1/3 c instant mashed potato flakes
Directions:
1. Cook beef and onion in 10-inch skillet over medium-high heat until well browned, stirring to break up meat. Pour off fat.
2. Stir soup, ketchup, black pepper and peas and carrots into skillet. Spoon beef mixture in 9-inch pie plate.
3. Heat milk and butter in 2-quart saucepan over medium-high heat to a boil. Remove from heat. Slowly stir in potatoes. Spoon potatoes over beef mixture.
4. Bake at 400 degrees F for 15 minutes or until potatoes are lightly browned.
Nutrition Facts:
Makes 4 servings
Calories: 459
Total Fat: 15 grams Total Carbs: 44 grams
Saturated Fat: 8 grams Dietary Fiber: 3 grams
Trans Fat: 0 gram Sugars: 8 grams
Cholesterol: 87 mg Protein: 31 grams
Sodium: 660 mg
Recipe adapted from: allrecipes.com
It's Your Health. It's Your Life. Make That Change!