Impress your Valentine by preparing this deliciously simple Red & Green Pepper Steak! Beef (yes, beef) can fit into a healthy diet!  In fact, in one 3 oz. cooked portion gives you 10 essential nutrients including protein, zinc, iron and B vitamins. Even the Mediterranean style eating pattern allows modest amounts of beef.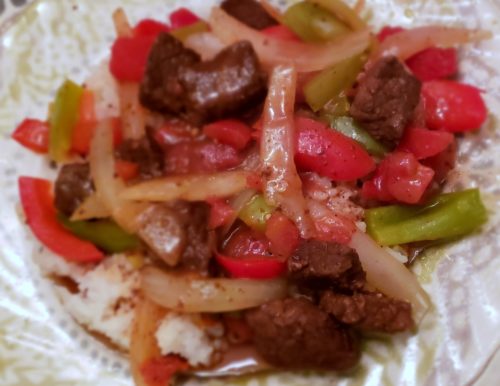 Ingredients
1 T reduced-sodium soy sauce
1 T dry red wine
1 T white vinegar
1 t ginger (fresh or ground)
1 pound London Broil, flank steak or Round Steak, cut against the grain in finger size strips
2 Tbsp olive oil
2 cloves garlic, minced
1 small yellow onion, sliced thin
1 red pepper, sliced lengthwise into ¼" wide strips
1 green pepper, sliced lengthwise into ¼" wide strips
1 12 to 14 oz. can of no salt added diced tomatoes
1 cup low sodium beef broth
2 tsp cornstarch
Directions
In a medium-sized bowel, combine the soy sauce, wine, vinegar and ginger. Add the steak & toss well to coat.
In a heavy 12-inch skillet, heat 1T of the olive oil over moderate to high heat for about 1 minute. Drain the beef, reserving the marinade, and add the steak to the skillet. Cook, stirring often, until no longer pink. Transfer the beef to a platter.
Add another T of olive oil to the skillet and add the garlic, onion and peppers. Cook, stirring for 1 minute until the vegetables are tender but still crisp.
Combine the marinade with the beef broth and cornstarch. Add to the skillet and heat until thickened. Return the beef & any juices to the skillet. Cook and stir until heated through. Serve with rice and enjoy! Serves 4.
NUTRITION FACTS:
Calories:                      325
Total Fat:                     16 g
Saturated:                  4.5 g
Trans:                             0 g
Monounsaturated        5 g
Cholesterol:                 45 mg
Sodium:                       280 mg
Carbohydrates:            17 g
Dietary Fiber:                     4 g
Sugars:                                 8 g
Protein:                             28 g
It's Your Health. It's Your Life. Make That Change!