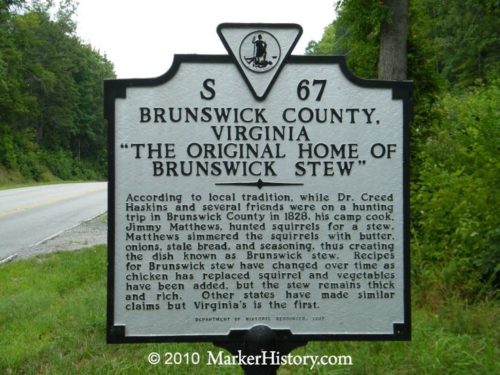 Angie is from Southeastern Virginia and this dish is native to that area. It is a delicious, thick, rich tomato & butter bean stew.  We like to keep this warming in the crock-pot during the Holiday season to warm up our visitors! Note: this recipes is adapted from the famous "Virginia Hospitality" cookbook authorized by the Junior League of Hampton Roads (Angie's mother's favorite cookbook!).
Ingredients:
4 chicken breasts
1 onion, quartered
2 ribs celery, diced
1 teaspoon salt
1/4 teaspoon pepper
16 ounces frozen shoepeg corn (white,sweet corn)
10 ounces frozen small butterbeans
16 oz. canned no salt added tomatoes                                                                                                                                                6 small potatoes, cubed (no need to peel)
1/3 cup ketchup
2-3 Tablespoons vinegar
1 Tablespoon brown sugar                                                                                                                                                                  16 oz. unsalted chicken broth (We like "Kitchen Basics" brand)                                                                                                  1 teaspoon Reduced Sodium Worchestershire
1/2 teaspoon Tabasco
1/4 teaspoon marjoram
2-3 Tablespoons butter or tub margarine
Directions:
Place chicken in large pot and add enough water to cover well. Add onion, celery, salt, and pepper. Boil until chicken is completely cooked. Do not discard water in pot.  Remove chicken and place on a dish in the refrigerator to cool.  Add the corn, butterbeans, tomatoes, potatoes, ketchup, vinegar & brown sugar to the pot of water.  Add the 16 ounces of unsalted chicken broth.  Cook over low to medium heat for 2 hours or until potatoes are tender. Remove chicken from the refrigerator & cut into shreds.  Add to vegetables along with Worchestershire, Tabasco, marjoram, and butter.  Simmer an additional 15 to 30 minutes.
Serves 6-8.
Note: Vary amount of water for thick or soupy stew. Add a cup of low sodium chicken bouillon after the first or second serving.
Nutrition Facts (8 Servings):
Calories:           300
Fat:                  4.5 gm
Saturated Fat:  2.3 gm
Sodium:            290 mg
Carbohydrate:  49 gm
Dietary Fiber:      9 gm
Protein:             18 gm
It's Your Health. It's Your Life. Make That Change!